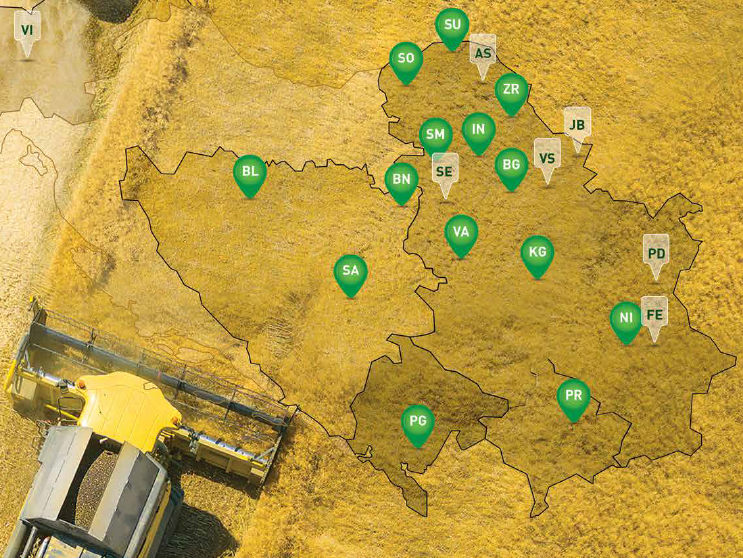 The Company "Agromarket d.o.o." Kragujevac is a private company - joint stock company founded in 1991. The main purpose of its foundation was supply of wholesale and retail shops with merchandise for agriculture production. Today, almost 30 years after its foundation, Agromarket is a producer, one of leading importers, representatives and distributors of a large number of articles that successfully fulfills all requests of buyers in the region of the West Balkans- Serbia, Bosnia and Herzegovina, Montenegro, and Macedonia. Apart from being a representative of brands of the world's leading producers of pesticides (Syngenta, Du Pont, Dow AgroSciences, Bayer Cropscience, BASF, United Phosphorus, Arysta LifeScience, Sinochem Ningbo, Agriphar, Spiess Urania, Cheminova, Nissan Chemical Industries, Zapi, Goemar, Galenika Fitofarmacija, Cinkarna,..), domestic and foreign selection houses (Franchi sementi, KWS, ZP ), garden and professional programme (Dolmar, Oregon,ECHO, STIGA, G.F., Di Martino, Al-Ko, Telwin, Elpumps,..) in the first decade of the 21st century Agromarket has also developed its own brands (Villager, AGM, Fitofert…)
In the course of its long-term successful business, Agromarket has been investing in the development of its own production and sales network, as well as its subsidiaries, members of "Agromarket Group". They are companies dealing with primary agriculture production and processing of agriculture products (seeds, seedlings, fresh and frozen programme of fruit and vegetables, mineral nutrients).
Agromarket is one of the leading suppliers on the pesticides market in Serbia, with distributors' share of around 1/3 of total Serbian market. Almost 30 000 t of seeds make more than 1/4 of the structure of the total turnover – small grains, corn and more than 3 million packs of agricultural crops- vegetables, flowers, grass and forage plants. At the same time, Agromarket is the owner of Sampion, sort of rye, and Rtanj, sort of triticale, which are produced, processed and distributed both in domestic and foreign markets.
Market of garden products, that is-tools and machines for agriculture as well as for hobby and professional use is covered by widest range of sales portfolio with which Agromarket dominates on the national level with quantities sold and ¼ of market share.
Proper plant nutrition, the most complex aspect of intensive agriculture production, has become accessible through brand Fitofert to all users of this first domestic brand in the category of water-soluble, specialized nutrients and soil cultivation. Fitofert products, irrigation systems, accompanying garden products make the offer of Agromarket complete and their usage indirectly a better quality of crop yield.
Continuous development of production/sale portfolio following the market needs has enabled the company in the first years of the 21st century to gradually take up more of market share with the continuous annual growth of about 10-15% (compared with the previous business year).
With the development of sales network, Agromarket has reached a leading role in the region when it comes to logistical possibilities and sales portfolio. Distribution network is well organized and positioned, and thus represents strong competitive advantage. More than 100 transport vehicles distribute goods daily from 8 distributive centers in Serbia, 2 in Bosnia and Herzegovina and 1 in Montenegro.
Special hallmark of Agromarket is "Agro EXPO", company fair that has been traditionally organized since 2008. Each February, during 4-day gathering, business partners (around 2000 of them) are presented with novelties in production programme.
Future progress of the company will be based on strengthening the existing and development of new competitive advantages. The final goal is holding the position of one of the three most significant companies in agriculture sector of the region, with the biggest share on the pesticides market, and the strongest brand Villager in the technical machines and tools market.
Fulfilment of the goal is possible only with trained and competitive human resources dedicated to the company's development goals. More than 280 employees are hired in development, sales, marketing, distribution and service sectors, from PhDs to qualified workers. Such human potential is also the main warranty for future development of the company.
Through "Agromarket Group" and expanding the group's activities through sectors of agriculture production, processing and export of agriculture products a unique and complete offer is made to clients and business partners thus strengthening the role of the leader in regional agribusiness. At the same time, as corporately responsible company Agromarket strives to offer assistance to its clients believing that each success of its clients is indirectly the success of Agromarket.